WEST STAGE (BEHIND TEAK RESTAURANT)

EDDIE TESTA BAND – WEST STAGE – 12 NOON – 1PM
Ultimate Dance, Rock, Soul, Rhythm & Blues Band…in other words, the total package! The Eddie Testa Band provides timeless music for private parties and corporate events and performs in popular nightclubs and venues throughout the Jersey Shore and beyond! Their shows ignite the audience and get everyone in the crowd dancing! You can always count on a good time when the Eddie Testa Band is performing! The Band has been together for many years and has a long history of great shows! Members frequently share the stage with other local and national performers. Band members include Eddie Testa, Kevin Gilmore, Ilya Stemkovsky, Neal Di Simone, Rick Cyr, Ken Latiwiec, Eddie Mendez and Mike Scialfa. EDDIETESTABAND.COM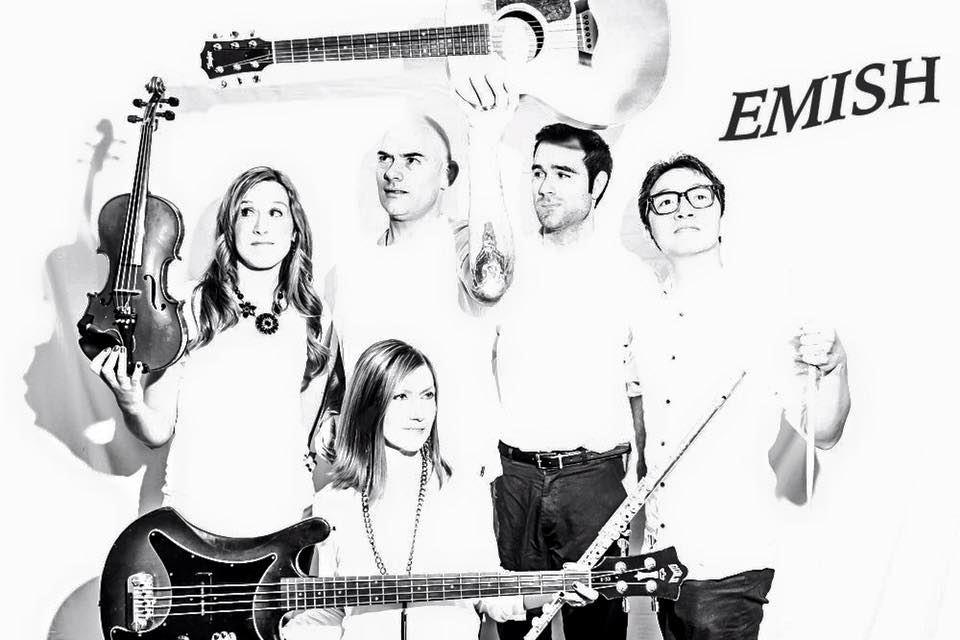 EMISH – WEST STAGE – 1:30 – 3PM
"High Powered Irish-Americana Folk Rock" Native to New York's Hudson Valley, Emish has thrived as a national band, bringing its brand of folk-inspired Celtic rock to major music festivals and concerts across the United States. With five albums to date, Emish has consistently earned accolades from the Celtic music community, including "Best Band of the Hudson Valley" from Hudson Valley Magazine, and the "Mighty Craic Award" from New-York based IPH radio station; front man Bobby Curreri has perennially received the "Best Singer/Songwriter" award from the Times Herald-Record, leading daily newspaper of the Hudson Valley and Catskills. A career highlight has been appearing at various national venues with Ireland's Dublin City Ramblers in "Hands Across the Pond" concert tours. Upon release of Emish's full-length studio album, "Sparkle" -- a milepost venture into Americana, showcasing the band's original songs -- the work was awarded "Number 1 Celtic Rock/Traditional Album of the Year" by Paddy Rock Podcast, the longest-running Celtic music podcast on the web. Founding members Christy Brown on fiddle and cello, Jen Curreri on flute, trumpet, whistles, and vocals, and Bobby Curreri, vocalist and guitarist, form the core of the group. Adam Conforti on drums and Mitch Sumner on bass round out the band. Together, they deliver the distinctive sound and kinetic performance that has made Emish one of the most sought-after Celtic rock bands in the country. John Ryan, Manager, 407 252 6403 or [email protected] WWW.EMISHMUSIC.COM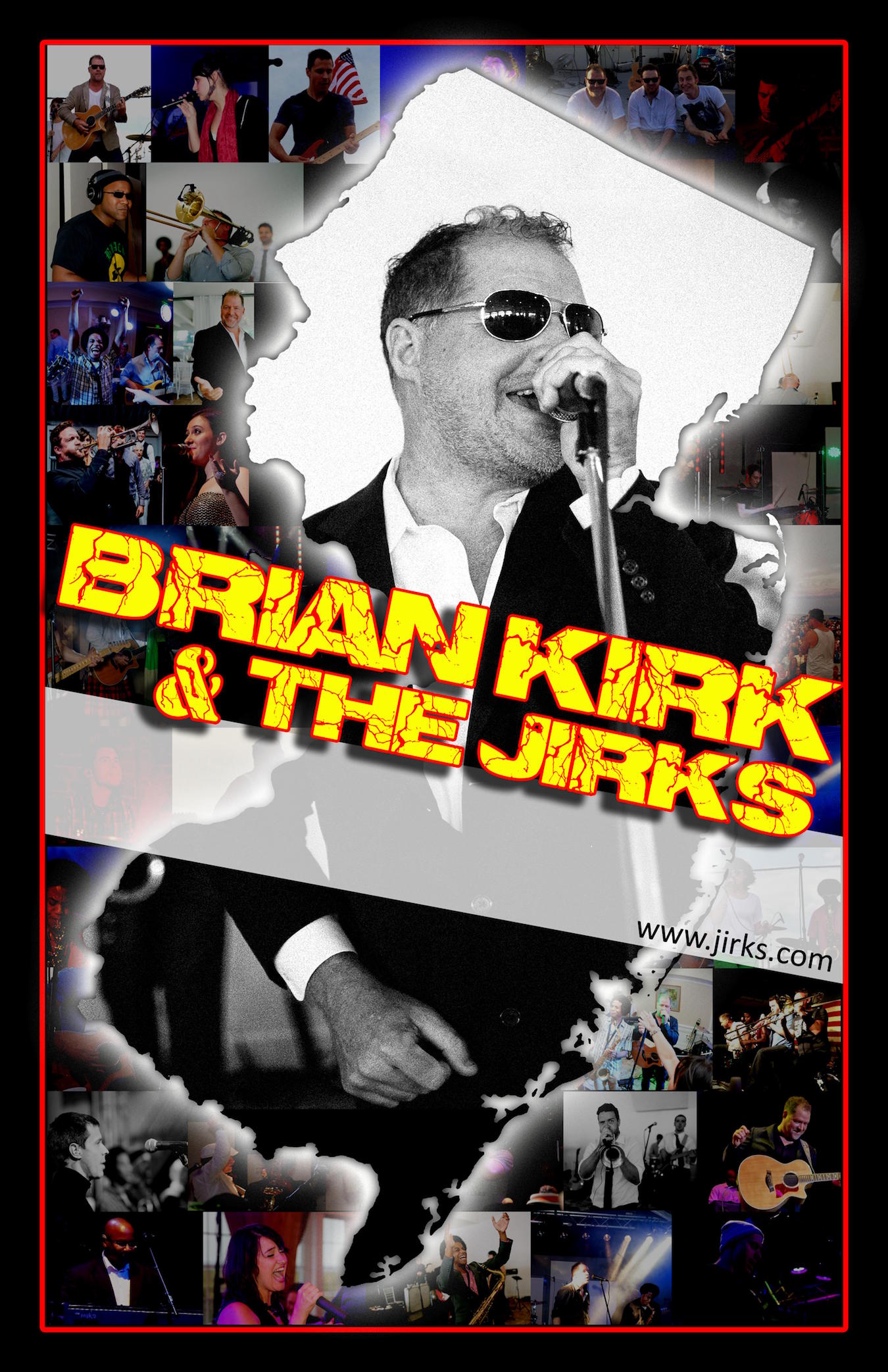 BRIAN KIRK AND THE JIRKS – WEST STAGE – 3:30 – 5PM
Formed in the early 1990s, Brian Kirk & The Jirks are one of the only bands in the East Coast circuit who can boast an impressive career spanning almost 2 decades! The secret of their success lies within 2 basic characteristics…an amazing roster of musicians and Brian's ideals of having fun with the audience instead of performing to the audience. Brian has enlisted an all-star cast of musicians that play with maturity, originality, accuracy, and pure love of the art form. Along with Brian are the incredible singers David Pershan and Kristin Cochran, backed by thick vocal harmonies and multiple instruments including a 3 piece horn section. BK&J have the ability to play an extremely diverse repertoire of songs complete with killer solos and great groove! Whatever the style, Brian Kirk & The Jirks play it and play it well! On top of this musical foundation is a weapon no one else has… Brian Kirk himself! With his hilarious antics and infectious personality! Audience interaction is what it's all about and this sets Brian apart from most front men. Fans are treated more like friends and not just spectators. The audience is part of the show and this allows a stronger bond between the band and its fans. The diversity, originality, and basic know how of such a seasoned band makes Brian Kirk & The Jirks the ideal band for clubs, weddings, corporate/private functions, or any other situation where you need a fun band to guarantee a great time for all! JIRKS.COM
REMEMBER JONES – WEST STAGE – 5:30 – 7PM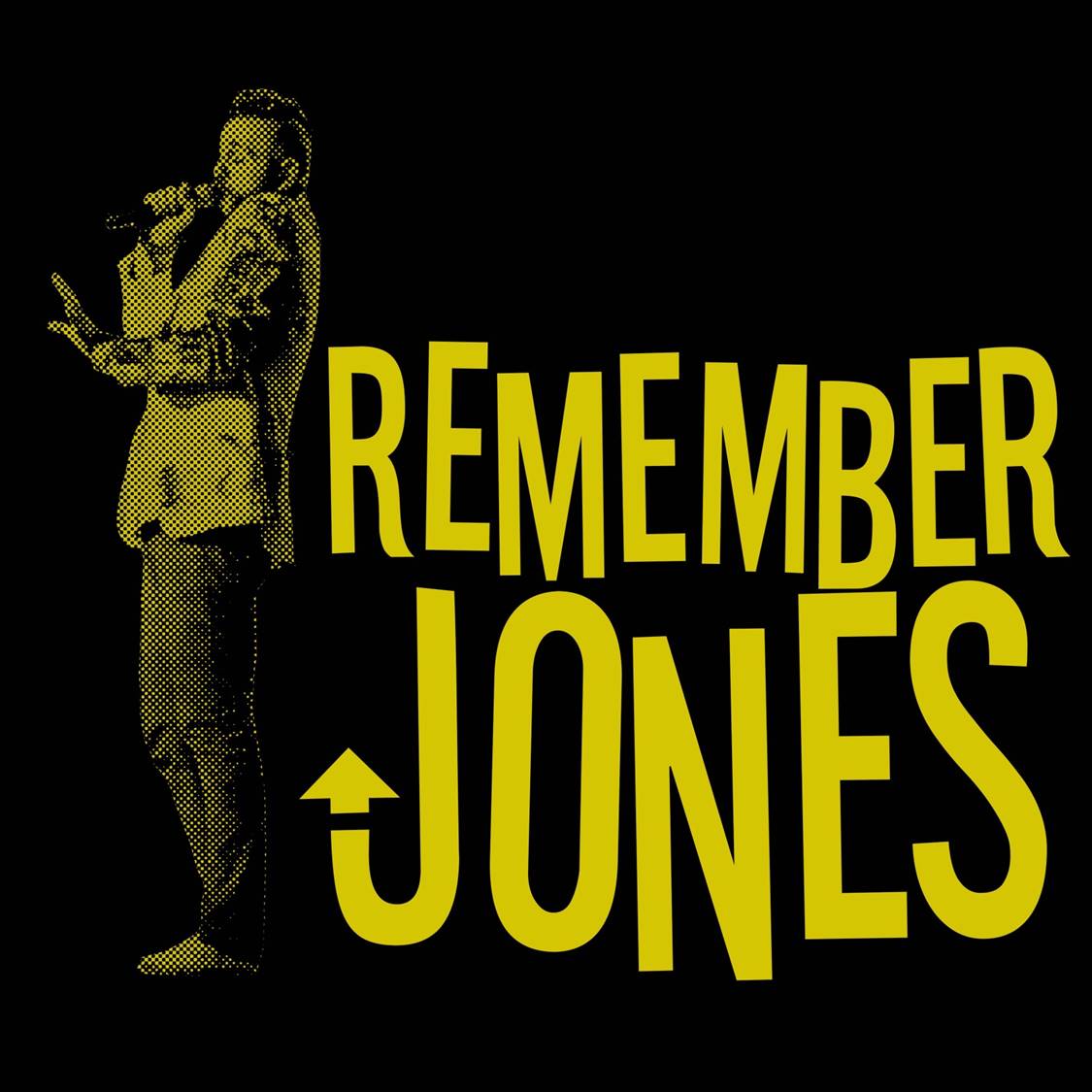 Remember Jones is a one-of-a-kind soul/pop singer, storyteller and bandleader with a throwback vibe and authentic energy that bring audiences to another time and place. Collaboratively supported by a double-digit sized band he has packed popular venues such as the Stone Pony, Convention Hall and the Paramount Theatre. He has been awarded top vocalist in the Asbury Park Music Awards and has produced, directed, and supported many local acts, rock musicals, and touring bands. The band's debut album, "Ladies and Gentlemen, Remember Jones!", available Via Cdbaby, Itunes, Spotify, Apple Music, And Other Outlets, was released in May 2016 at Asbury Park's Convention Hall. POPDOSE declares "...uncanny magic... remarkable vocalist...Remember Jones is heading for big things." A follow-up EP, "Tranquilizer!" was recorded at The Bomb Shelter in Nashville, TN, produced by Andrija Tokic (Alabama Shakes, Hurray for the Riff Raff, Langhorne Slim) and released in July 2017. The band hosts a tribute project "Back to Black", a re-creation of the entire Amy Winehouse album that has sold-out 3 times locally, then on tour packing venues in Brooklyn, Detroit, Cleveland, Louisville, Nashville, Milwaukee, Philadelphia, and more, including a sold-out show at LINCOLN HALL in Chicago that was streamed live by AUDIOTREE. They performed Joe Cocker's "Mad Dogs and Englishmen" to a sold out house and was the first ever to present and sing R. Kelly's "Trapped in the Closet" live alongside a 20-piece orchestra. Grammy-nominated guitar legend and songwriter Gary Lucas joined the band on a successful string of dates recreating the entire Jeff Buckley – Grace album in 2016. An upcoming EP celebrating the 100th birthday of Dean Martin, produced by Richard Barone and featuring a duet with Deanna Martin, is scheduled to be released this November. "Fiercely passionate frontman... one for the ages... holds the audience in the palm of his hand" Live For Live Music REMEMBERJONES.COM
EAST STAGE (Behind the Dublin House)
BRIANNA MARIE – EAST STAGE – 12:00 NOON – 12:10 PM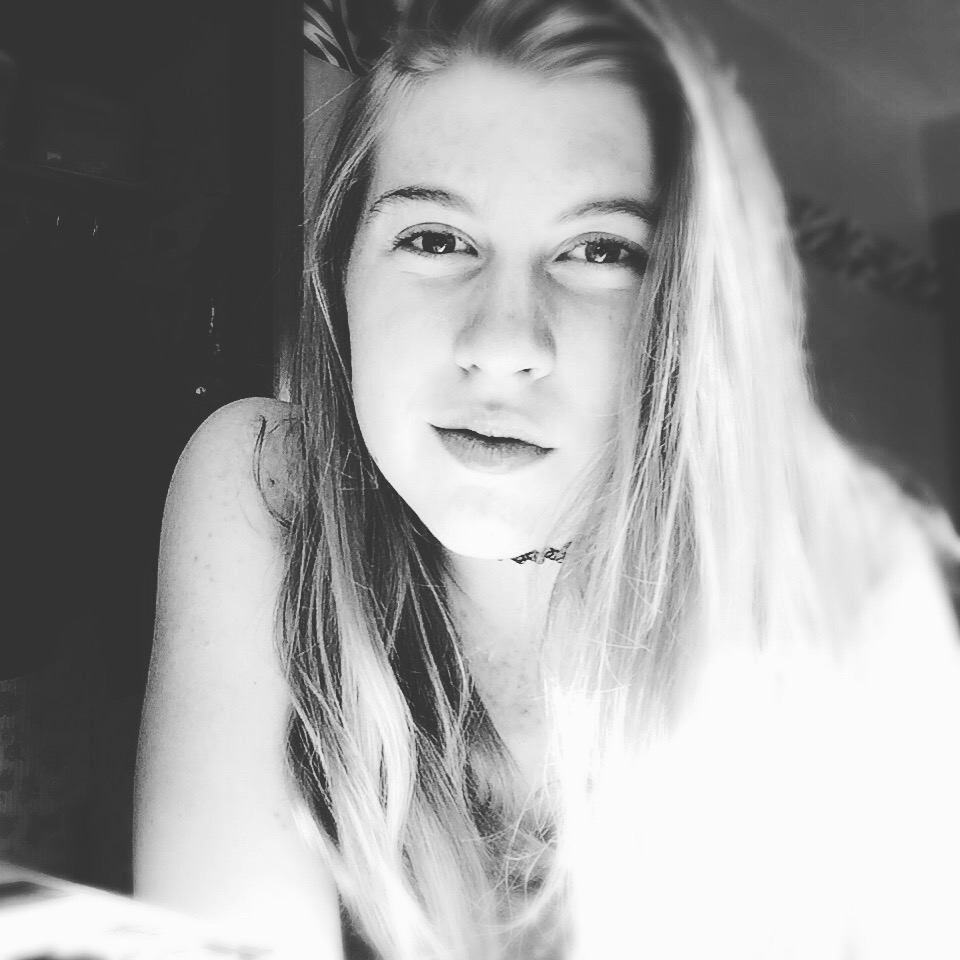 Brianna Marie will kick off the Red Bank Guinness Oyster Festival with a solo of our own Star Spangled Banner. Twelve year old Brianna Marie has a natural talent that will charm young and old alike. Singing has been a passion for Brianna since she began to talk. She has recently started on a professional path to hone her skills and perform professionally. She recently performed at Tim McLoone's Asbury Grill with Bobby Egan on the piano and won the Nightingale Singing Award in June, 2016! She has also performed in Premier Theatre's Scrooge at the Paramount Theatre, Asbury Park, has entertained at the Jersey City Harismus Cemetery Veterans Day Festival and performs locally at school shows. At West Dover School, Toms River, she won the Presidential Award and educational and character awards. She is currently a 7th grade honor student at Toms River Intermediate South. For more info contact [email protected].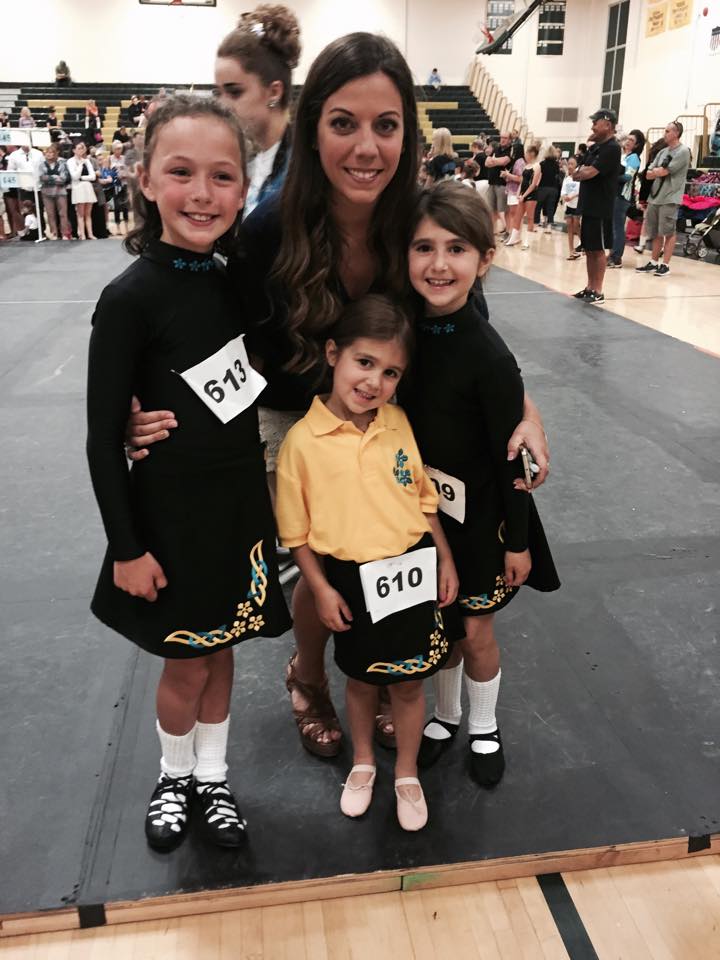 D'ARCY SCHOOL OF IRISH DANCE – EAST STAGE – 12:10 – 12:30PM
Colleen Nicosia, T.C.R.G. has been dancing for more than 20 years and is now teaching her love of dance to students all over New Jersey. Classes are held in Wall Township, Fair Haven, Brick, and Point Pleasant, New Jersey. The D'Arcy School dancers have won national and international awards both in solo and team dance categories and have performed at Carnegie Hall, The New Jersey Arts Center, Radio City, and have been honored by two of New Jersey's Governors for their contribution to preserving Irish culture.
[email protected] or 732.841.8933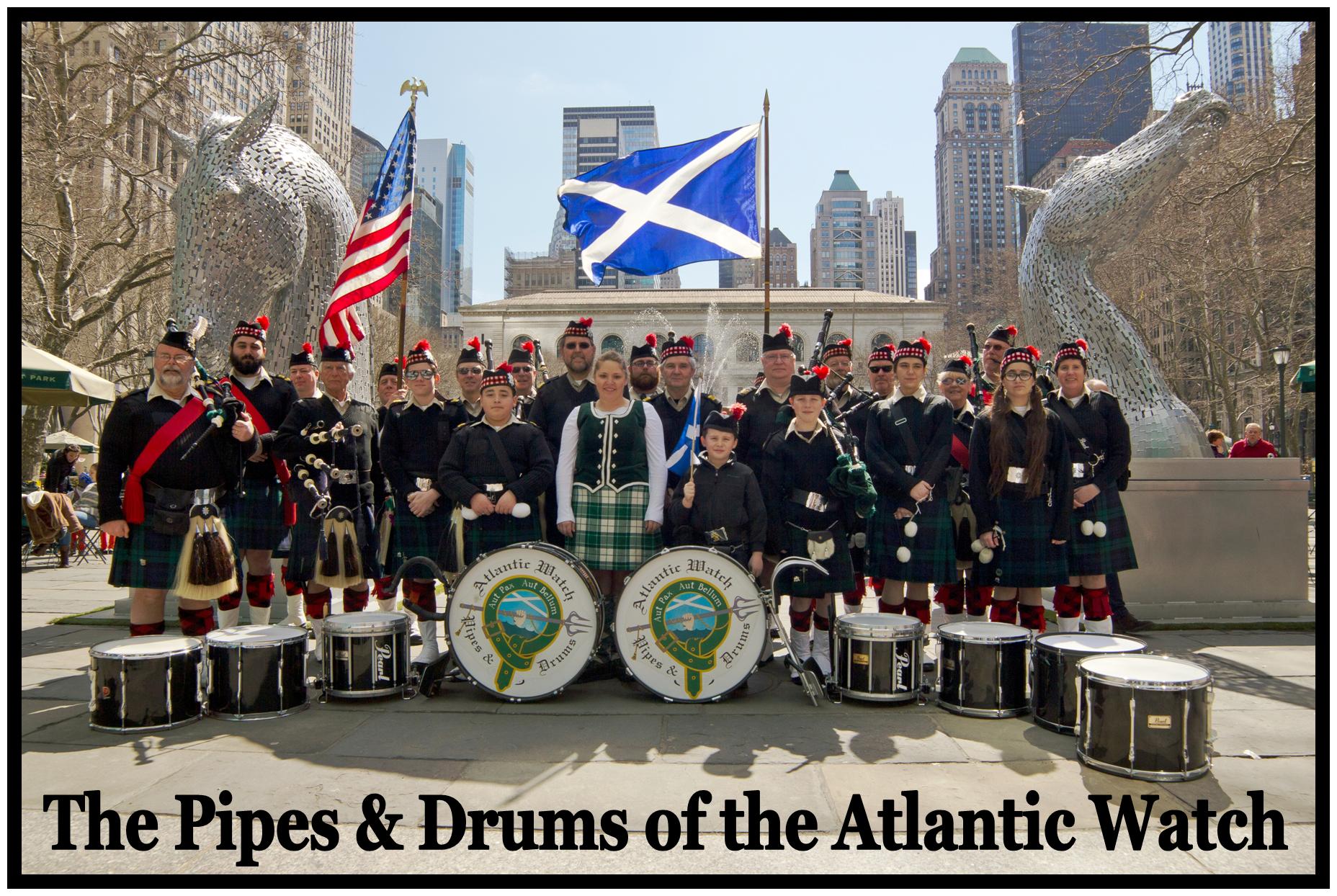 PIPES AND DRUMS OF THE ATLANTIC WATCH
EAST STAGE 12:30 – 12:45PM & RANDOMLY THROUGHOUT THE DAY
Are the pipes calling you? The Atlantic Watch was founded in 1993 as a Scottish-oriented group that emulates the 42nd Royal Highland Regiment, the legendary Black Watch of Scotland. From its outset, the band's purpose has been to perpetuate the rich musical heritage of the Celtic people through highland piping, drumming and dancing. In addition to a repertoire of traditional Scottish music, the band also regularly entertains with Irish, Welsh and American tunes. The Atlantic Watch is a teaching band which offers free instruction in the Great Highland Bagpipe, Snare Drum, Flourishing Tenor Drum, Bass Drum and Highland Dance. No musical or dance experience is required—simply the desire to learn. Our band embraces family values and our members are of all ages, both genders, and come from a wide variety of backgrounds. Membership in the Atlantic Watch is free and open to all. All that we ask of our members is that they participate in band events. Based in Red Bank, NJ, the Atlantic Watch plays regularly in and around central New Jersey as well as the mid-Atlantic region. In addition, the band has played with distinction in Hawaii, New Orleans, Scotland, Bermuda, and Nova Scotia. The Atlantic Watch always welcomes new members who are interested in piping, drumming, dancing, and participating in our Color Guard. Visit our website at
ATLANTICWATCH.ORG OR (732) 788-8900 FOR MORE INFORMATION.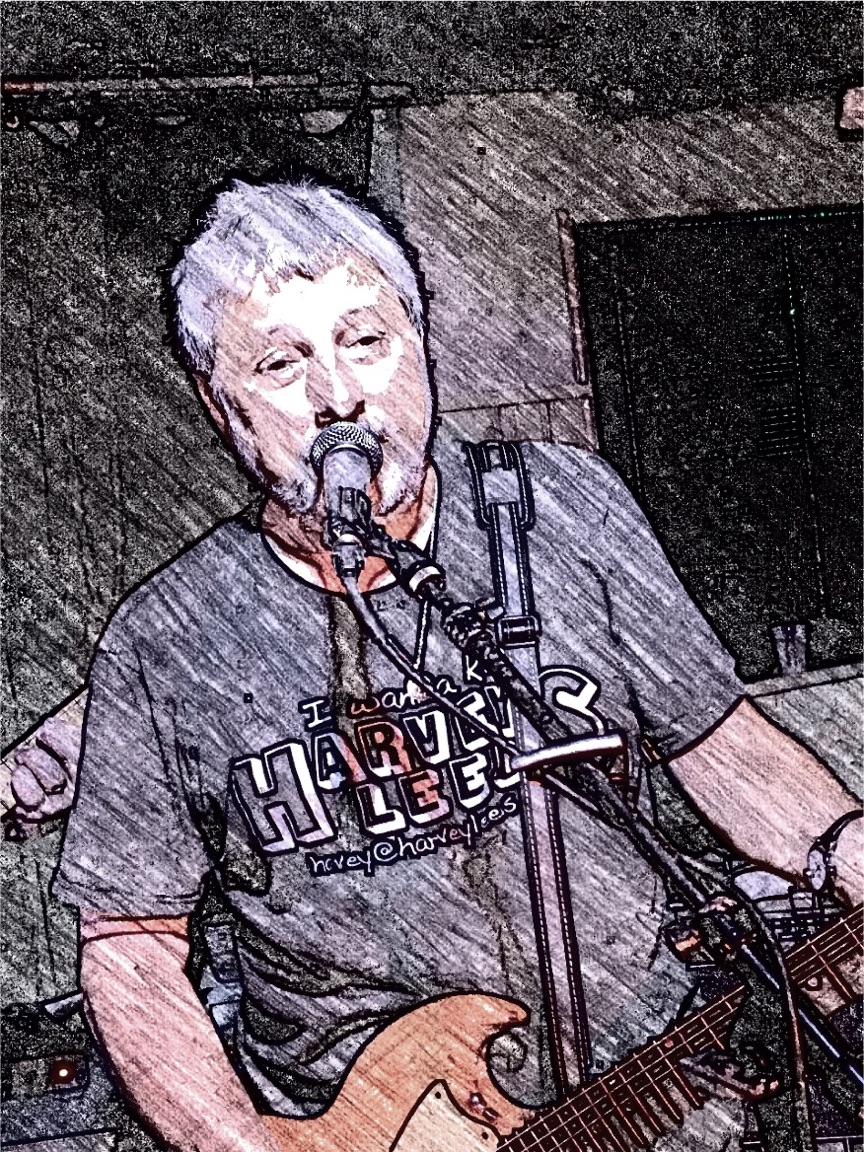 BOBBY BANDIERA BAND
EAST STAGE – 1PM – 2:30PM
Bobby Bandiera is an American rock guitarist, singer and songwriter. Bandiera began playing in clubs at the age of 16 with a band called "Holme" from Orange, NJ. Holme debuted in 1970. They were the house band for years at Dodd's in Orange & D'Jais in Belmar where Bandiera still makes occasional appearances. In 1985, Bandiera replaced Billy Rush as guitarist for Southside Johnny and the Asbury Jukes. He stayed with the Jukes until the mid-1990's. Bandiera has also performed on albums by Cyndi Lauper, Patti Scalfa and others. In 2003, Bandiera toured with Bon Jovi during "This Left Feels Right Live" session. From 2005 to 2015 Bandiera played guitar in Bon Jovi's live performances. Bandiera and his band (The Bobby Bandiera Band) have shared the stage with Bruce Springsteen at benefit concerts and performed with Springsteen in Asbury Park at holiday shows in the early 2000's. Bandiera has also had an active solo career, releasing three solo albums. Band members include Jim Celestino (Guitar-Vocals) whose resume includes guitar and vocals for Jon Bon Jovi & The Kings Of Suburbia, The Jersey Shore Rock N' Soul Revue, Tim McLoone and The Shirley's and more. He has shared the stage with Bruce Springsteen, Ben E. King, Gary "US" Bonds, Darlene Love, Rob Thomas, Daryl Hall and many more. Ron Haney (Bass), is a producer, songwriter and multi-instrumentalist whose songs have been featured in many films and television shows. He was a member of the power pop band The Churchills (Universal Records) and co-wrote songs with Alicia Keys including "Tell You Something" which appeared on her number one record "As I Am". Mark Sacco (Drums) is a master of both Electronic and Acoustic drums. His first solo album "It's Just Me" was completed late in 2016 on which he performed every note and recorded, engineered and mixed it. Sean Marks (Sax) primarily works with the Billy Walton Band. He's completed four international tours and also wrote and recorded horn sections on their latest two albums "Wish For What You Want" and "Soul of a Man". He also worked with Steven Van Zandt and Darlene Love on their 2016 Christmas tour. John Pittas (Keyboards) is best known for playing with The VooDUDES, he has performed at The Red Bank Jazz and Blues Festival, Philadelphia's Jambalaya Jam, New York's Benson & Hedges Blues Festival, Ft. Lauderdale's "Crazy Crawfish Fest." Richard Blackwell (Conga Drums/Percussion) played on the "The Wild, the Innocent and the E Street Shuffle" and he performed with Bruce Springsteen at Asbury Park's Paramount Theatre in 1996 and at Madison Square Garden in 2009. According to Bruce, Blackwell is "one of the coolest things I'd ever seen." BOBBANDIERA.COM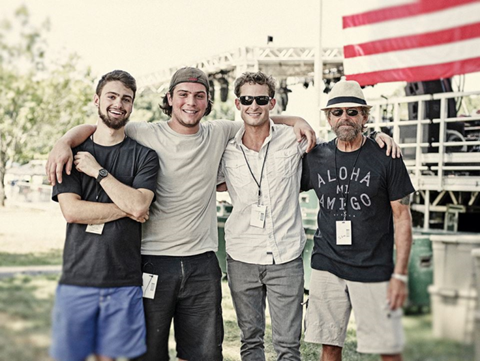 SAM SIMS BAND – EAST STAGE – 3PM – 4:30
Sam Sims Band has organically grown into a vibrant, yet laid-back melodic sound. The music has island feel and is rooted mostly in folk-rock, reggae and blues. Sam has been writing songs for over twenty years. The band plays both originals & covers and features first class musicians including: Kyle Ward, a guitar genius and soon to be graduate of Berklee College of Music; Dimitris Kulaga, life-long percussionist in Latin, rock, and folk music styles; Aaron Manzo, an outstanding bass player, guitar player and songwriter with a natural sense of rhythm. Sam's songs have been featured on prime-time television shows (CBS' Hawaii 5-0 aired Sam's Hawaiian Christmas Song in 2013 and 2014). With four full-length albums and a single to date, Sam's heartfelt music encompasses melodically-voiced acoustic guitar, ukulele, exquisite lyrics, and soulful vocals. Kyle Ward is looked at by many as one of the best guitarists around the Jersey Shore, having won many awards at the young age of only 21. Dimitris Kulaga is always an entertaining performer who plays many different percussion instruments from all over the world. Lastly, Aaron Manzo brings in nice sounding low-frequency with his graceful, extremely tasteful bass guitar style. The band has shared stages with well-respected acts such as the Legendary Wailers, Willie Nile, Steve Forbert and Rob Machado. The group has been recording, working with Bruce Springsteen's producer; they plan to release a full-length album in 2017. SAMSIMSMUSIC.COM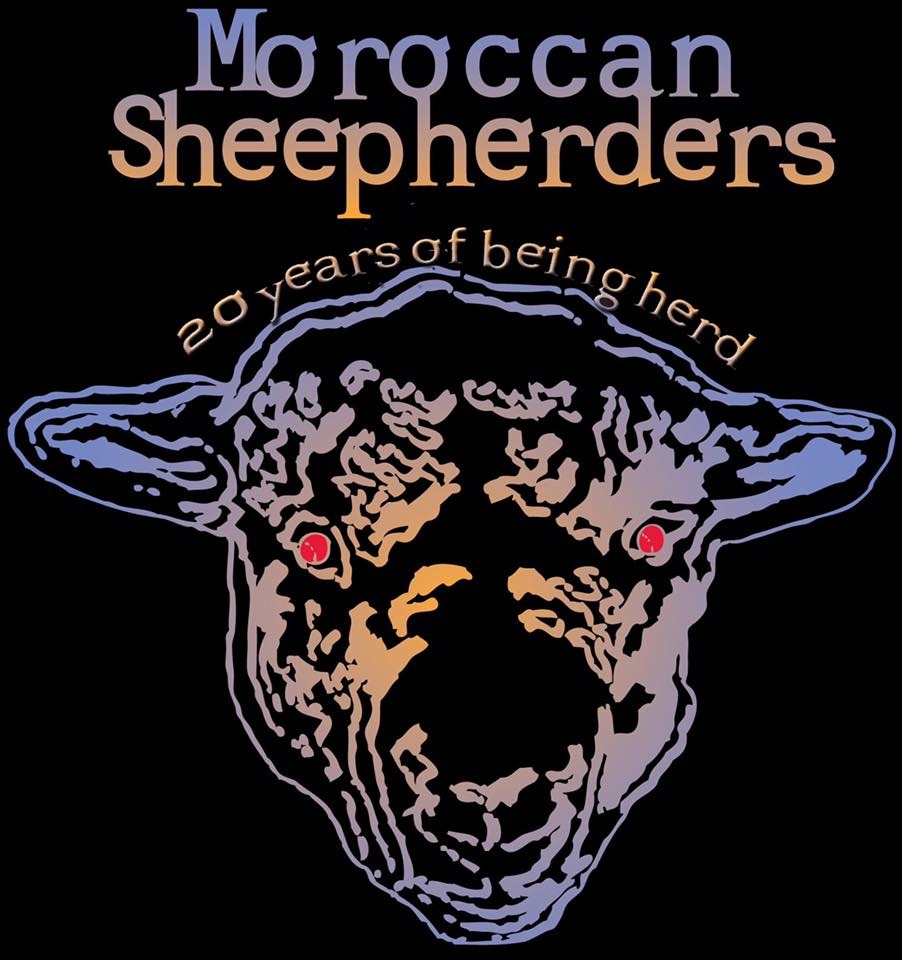 MOROCCAN SHEEPHERDERS – EAST STAGE – 5PM – 6:30PM
Whether playing in the City or Jersey Shore, fans get into the loose, improvisational groove of Moroccan Sheepherders! The band takes covers and originals to another dimension and never lets up until the crowd gets pulled into the primal, tribal vibe! The original music of the band can be described as a thick, heady mélange of genres ranging from tribal ambient trance rock to blue-eyed blues rock. In 2008, founding members Craig Smith, Scott Burton and Steve Warendorf took their blend of original music to the cover music scene. The band infused many jam-oriented cover songs into their live set list. In 2009 the band added several vocalists including Alan Manzo and Laura Johnson. Singers Darren Johnson, Herb Freeman and Pat Murphy joined the band in the following years. In 2014 a horn section was added including Jeff Starr, Chris Allen and Jesse Ribyat. The band keyboardists include Arne Wendt and Vince Bergamo. Anthony Flora, carries the drumming load for the herd and original drummer Craig Smith still plays periodically with the band. Much of what they are doing is about pure joy! The Moroccan Sheepherders celebrated their 20th year in 2016! SHEEPHERDERS.COM
West Stage-Tracey Dunham – 1, 3 & 5PM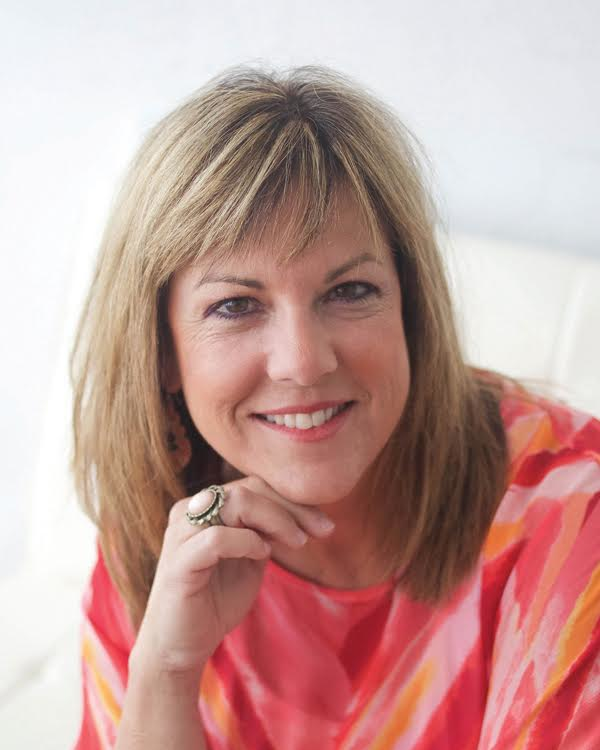 Traci Dunham is a #1 best selling author, who resides in Haddonfield, NJ with her husband Sandy and two daughters, Caroline and Paige. She grew up in Wildwood Crest, New Jersey and still spends her summers at the Jersey Shore.
Growing up at the shore gave her the inspiration to write her first book, The Oyster's Secret. She hopes that young children who read her work understand the beauty within, that everyone is special in their own way and that sometimes the things we fear are in our imagination.
Traci's Books Include:
The Oyster's Secret, My Sister Lulu and Me & Nothing to Fear from the Dark, My Dear.
Find out more about Traci: www.tadbooks.com, facebook TAD Books
East Stage-Dori Smyth – 2:30, 4:30 & 6:30PM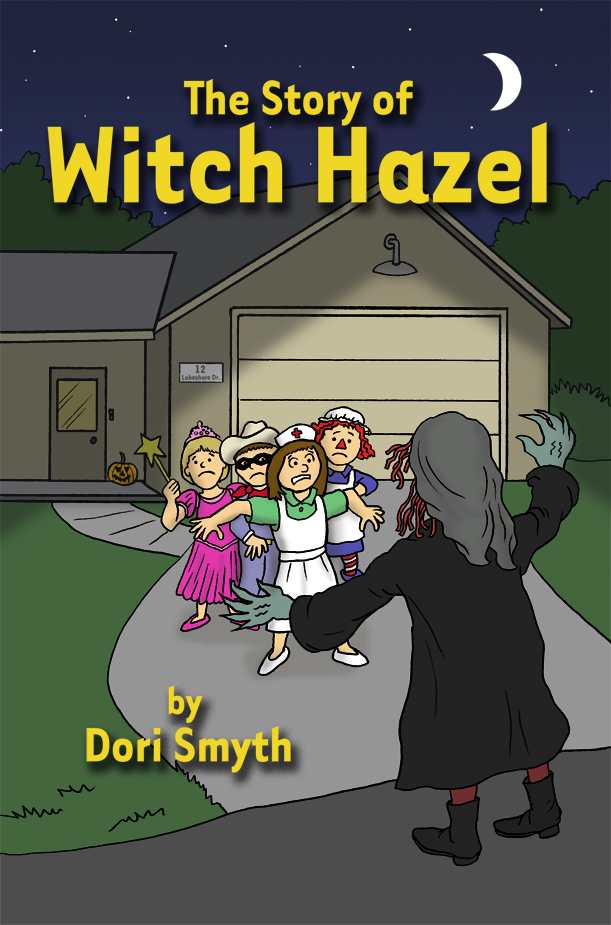 The Story of Witch Hazel by Dori Smyth
Witch Hazel is a memorable Halloween character whom many people from all over have either heard of or read about in Dori Smyths local newspaper. Through the years, they have traveled from neighboring towns hoping to have their own experience as Hazel is loved by so many. Since these stories and encounters continue even to this day, Dori felt it was time that all children had the opportunity to read about this gentle, lovable, and funny witch who brings so much spirit to Halloween.
This story takes the reader through Dori's experience as a child, with her siblings and neighborhood friends as they eagerly anticipate and react to Witch Hazels arrival on Halloween night. Even though they are scared, everyone is drawn to Witch Hazel as she dances in the street, sings songs, and offers rides to the moon on her broomstick.
About the Author:
Teaching for a combined fifteen years, Dori is currently working in the Mendham Township School District as their Gifted and Talented/STEM teacher and has been recognized for her contributions and achievements on multiple occasions. Most recently, Dori was honored by the Air Force Association for being the 2015 chapter STEM Teacher of the Year. She is a wife and mother of three, currently residing in Byram Township, New Jersey. Her most precious moments are those spent with her immediate and extended family. Her mother still resides in New Jersey as well and the two remain extremely close, especially around Halloween! [email protected]