WEST STAGE (BEHIND TEAK RESTAURANT)
EDELWEISS OOMPAH BAND – GERMAN, AUSTRIAN, POLISH & SLOVENIAN MUSIC
WEST STAGE NOON-12:15PM
& RANDOMLY ON THE MIDWAY TILL 2:30PM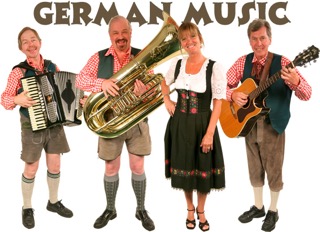 Living legends in the Polka industry, Edelweiss Oompah Band has been performing an upbeat, fast paced repertoire of traditional "Oktoberfest" music for decades. Dedicated to the music of central Europe, they believe in the preservation of ethnic German and Austrian Polka music as a means of keeping the culture of the Alpine region alive. The band is credited with being one of the most beloved Polka bands in the Mid-Atlantic regions, Edelweiss Oompah Band relies on a vast repertoire of Polka and Waltz selections, as well as traditional and original renditions of German, Polish and Slovenian standards. Combining an irresistible personality with a festival atmosphere, Edelweiss Oompah Band has earned a growing regional audience and finds itself in the mainstream of contemporary world music. CONTACT DALE STROEVER 732-747-0654 OR AT [email protected]
VERDICT – REGGAE, CALYPSO & CARIBBEAN WEST STAGE 12:15 – 1:45PM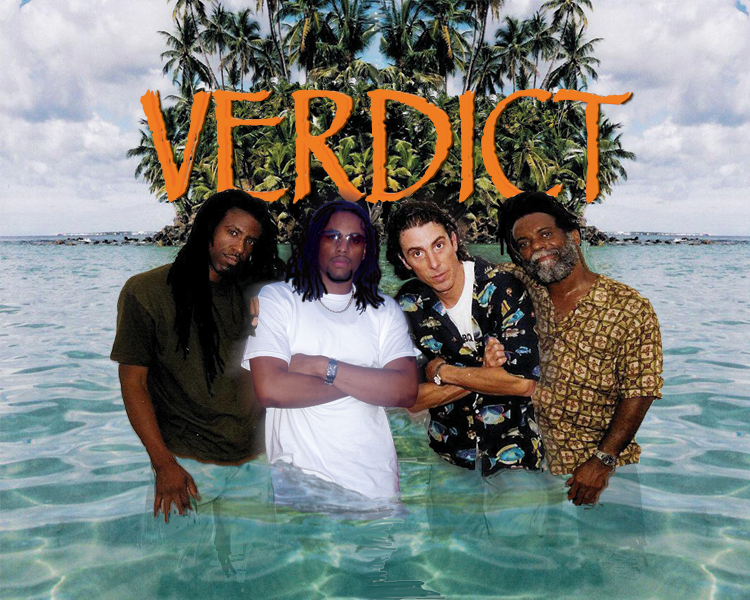 Verdict has been rocking the house with Caribbean flavor from venues as varied as the fabled Stone Pony in Asbury Park to the NFL Owners Meeting at the Super Bowl in Miami. Their polished energy has been fed from the wide ranging experiences of jamming with Chaka Khan and Stevie Wonder, to performing "Stir it Up" and Chick Corea's "Spain" with Prince Ali of Iran sitting in on drums. Their passion is colored by opening for legends such as Sting and Madonna at the Gianni Versace memorial concert, to running for their lives as a near riot breaks out at a block party in Bensonhurst. The band's undeniable talent brought this American based band the honor of performing at Carnival in Trinidad, appearances on network TV, and even a junket entertaining the legions of the Republican National Committee. The story continues as does their unending quest to play the transcendent jam, create the perfect moment, and revel in the shared experience with you, the fans. Be there where the next chapter is written in the Verdict odyssey. VERDICTISIN.COM
THE WEEKLINGS – THE MUSIC OF THE BEATLES…AND MORE
WEST STAGE 2:15 – 3:45PM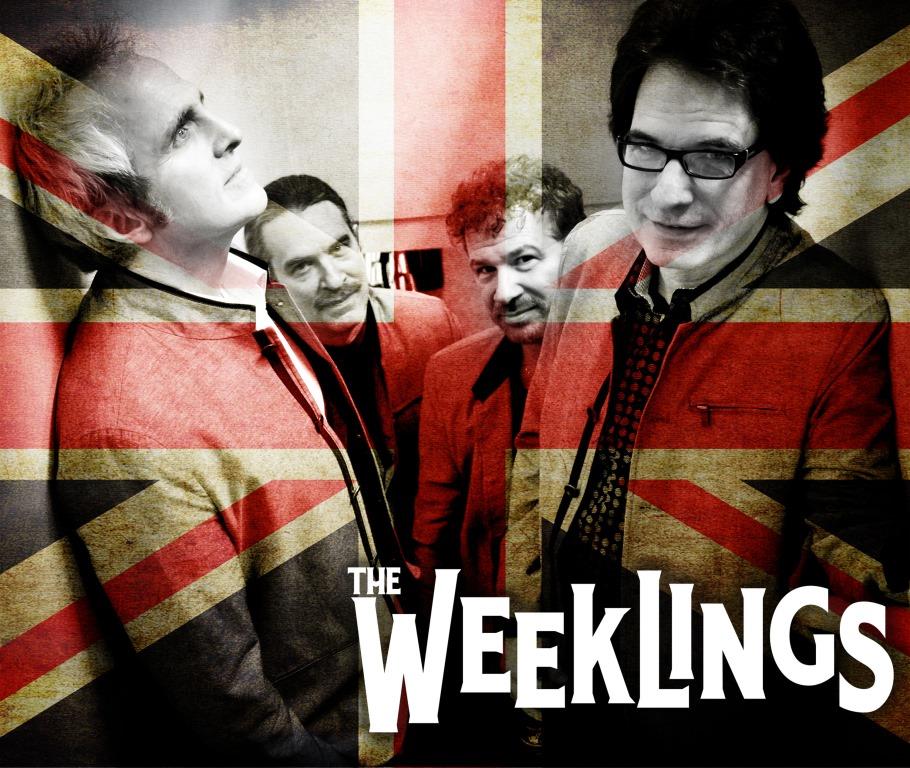 "THE WEEKLINGS - America's most unique celebration of the music and muse of THE BEATLES, performing explosive renditions of Beatles classics, uniquely arranged Beatles nuggets such as "Paperback Writer", "Baby You're a Rich Man" and "I Am the Walrus" plus brilliant Beatles-inspired power-pop originals, like "In the Moment", one of the Top Ten most popular songs in 2018 on Sirius/XM's Little Steven's Underground Garage and their newest, a remake of The Easybeats garage classic, "Friday On My Mind" featuring Peter Noone (Herman's Hermits) on lead vocals. The Weeklings bring The Beatles to life through their extraordinary musicianship, exceptional vocals and charming stage presence. "They show their audiences what The Beatles were and what they might have been today."
The Weeklings are comprised of Glen Burtnik aka "Lefty Weekling" (bass and vocals), Bob Burger aka "Zeek Weekling" (rhythm guitar and vocals), John Merjave aka "Rocky Weekling" (lead guitar and vocals) and Joe Bellia aka "Smokestack Weekling" (drums and vocals). Glen Burtnik is a singer, songwriter, entertainer and multi-instrumentalist, best known for his work with Styx and Electric Light Orchestra. Burtnik appeared in the Broadway production of Beatlemania as Paul McCartney, has composed songs for the likes of Don Henley and Patty Smyth, the Hot 100 #2 mega-hit "Sometimes Love Just Ain't Good Enough", John Waite, Randy Travis, the #2 Hot Country hit, "Spirit of a Boy, The Weeklings :Wisdom of a Man", Styx including the bands last Top 40 hit "Love at First Sight" and their last Gold album Edge of The Century and many others. He continues his love of The Beatles playing with The Weeklings and Liverpool at national Beatle Festivals and touring nationally with Glen's Summer of Love Concert. Bob Burger is a singer, guitarist and gold record song writer whose credits include Styx, Donnie Iris, HBO pictures, Kasim Sulton and others. He has long performed Beatle and other tribute shows with Glen Burtnik and Bobby Bandiera (Bon Jovi, Southside Johnny). Burger has performed with Paul McCartney, Bruce Springsteen, Jon Bon Jovi, Billy Joel, Southside Johnny and many others. John Merjave is a longstanding member of the "BeatleFest" house band and other national shows performing with Billy Preston, Donovan, Denny Laine and many others. Joe Bellia is a master of the "Ringo" drumming style and is a highly sought studio/live drummer having performed, recorded and toured with such greats as Southside Johnny & The Asbury Jukes, Bruce Springsteen, Jon Bon Jovi, Dave Mason and many more. THEWEEKLINGS.COM
DECADE, NEIL YOUNG TRIBUTE – CANADIAN WEST STAGE 4:15 – 5:45PM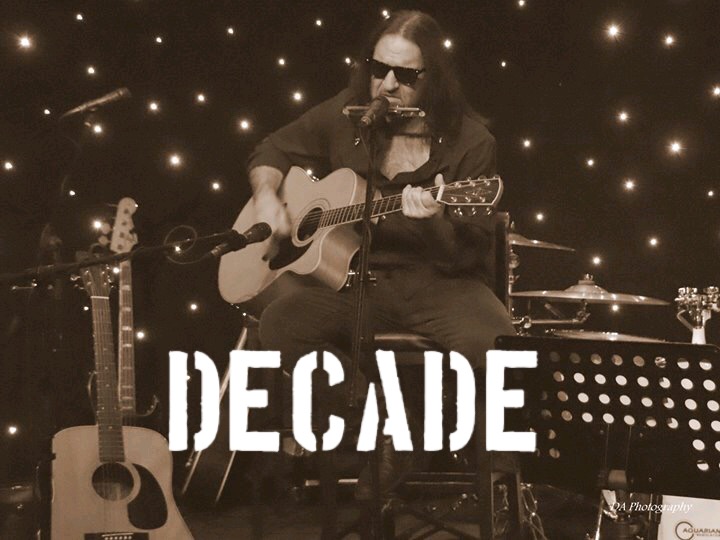 Playing the music of Canadian singer, songwriter, musician -Neil Young- has been a lifelong passion for lead vocalist & guitarist, John Hathaway, and he makes no bones about it. Neil Young is the reason I learned to play guitar. For the last 30 years, John has been studiously learning the ins and outs of Neil's work. Perfecting the now famous and unique palm muting technique and one of a kind lead work that are Neil's trademarks has been a lifelong goal and the main reason why this tribute is so different from many other Neil Young cover bands. The guitar work and vocals need to extremely close for the hardcore fans, states John. "We're re-creating album or live recordings and I want people to leave thinking they just saw the best thing next to Neil Young in person." Many of the songs covered also feature John's eerily similar vocals, even given the passage of time from Neil's early days to more current material. Throw in the note for note harmonica parts and an amazing support cast and what you get is one of the closest representations of Neil Young's sound as one band can get.
Decade is proud to return to this years Red Bank International Beer, Wine and Food Fest! The show will feature tunes from Neil Youngs work with Pearl Jam on 1995's Mirror Ball collaboration as well as vintage works from Neil's early years solo and with his legendary backing band Crazy Horse. With a keen emphasis on detail, Decade is sure to please even the most avid fan! Don't let the mellow stuff get you too comfortable, you might just get blown away "Like a Hurricane."
Decade is:
Johnny Hathaway as Neil Young (vocals, guitar and harmonica), Steve Cunniff (Keyboards and backing vocals) Gordon Bunker Strout (guitar and backing vocals) Ken Biedzynski (drums and percussion), Aaron Manzo (bass and backing vocals), Joe Napolitano (pedal steel) and Laura Catalina Johnson.
WWW.FACEBOOK.COM/DECADEBAND or [email protected]
EAST STAGE (BEHIND THE DUBLIN HOUSE)
EAST STAGE 12:00 – 12:20PM & RANDOMLY ON THE MIDWAY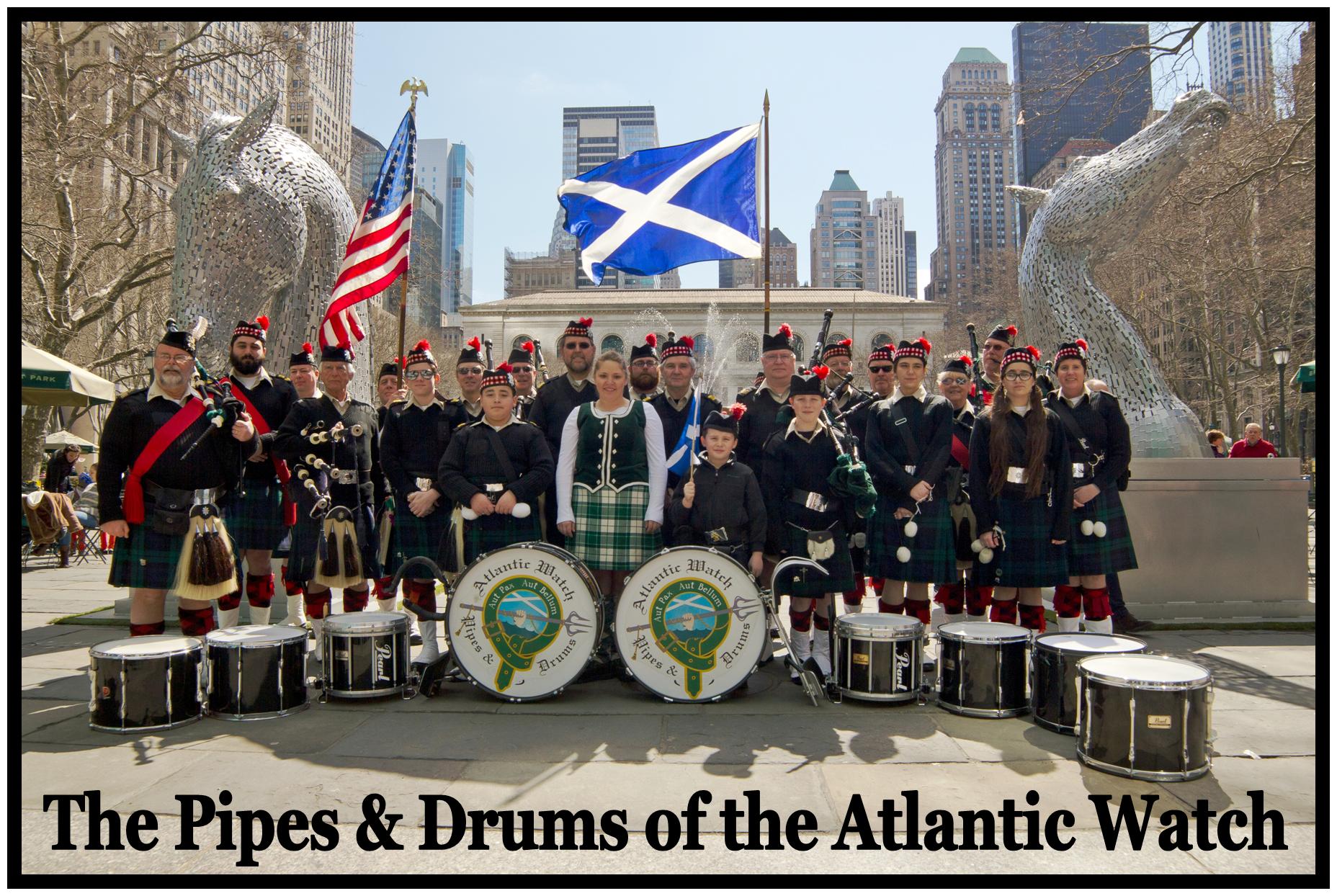 Are the pipes calling you? The Atlantic Watch was founded in 1993 as a Scottish-oriented group that emulates the 42nd Royal Highland Regiment, the legendary Black Watch of Scotland. From its outset, the band's purpose has been to perpetuate the rich musical heritage of the Celtic people through highland piping, drumming and dancing. In addition to a repertoire of traditional Scottish music, the band also regularly entertains with Irish, Welsh and American tunes. The Atlantic Watch is a teaching band which offers free instruction in the Great Highland Bagpipe, Snare Drum, Flourishing Tenor Drum, Bass Drum and Highland Dance. No musical or dance experience is required—simply the desire to learn. Our band embraces family values and our members are of all ages, both genders, and come from a wide variety of backgrounds. Membership in the Atlantic Watch is free and open to all. All that we ask of our members is that they participate in band events. Based in Red Bank, NJ, the Atlantic Watch plays regularly in and around central New Jersey as well as the mid-Atlantic region. In addition, the band has played with distinction in Hawaii, New Orleans, Scotland, Bermuda, and Nova Scotia. The Atlantic Watch always welcomes new members who are interested in piping, drumming, dancing, and participating in our Color Guard. ATLANTICWATCH.ORG OR (732) 788-8900 FOR MORE INFORMATION.
MATT O'REE BAND – ALL AMERICAN ROCK EAST STAGE 12:30 – 2:00PM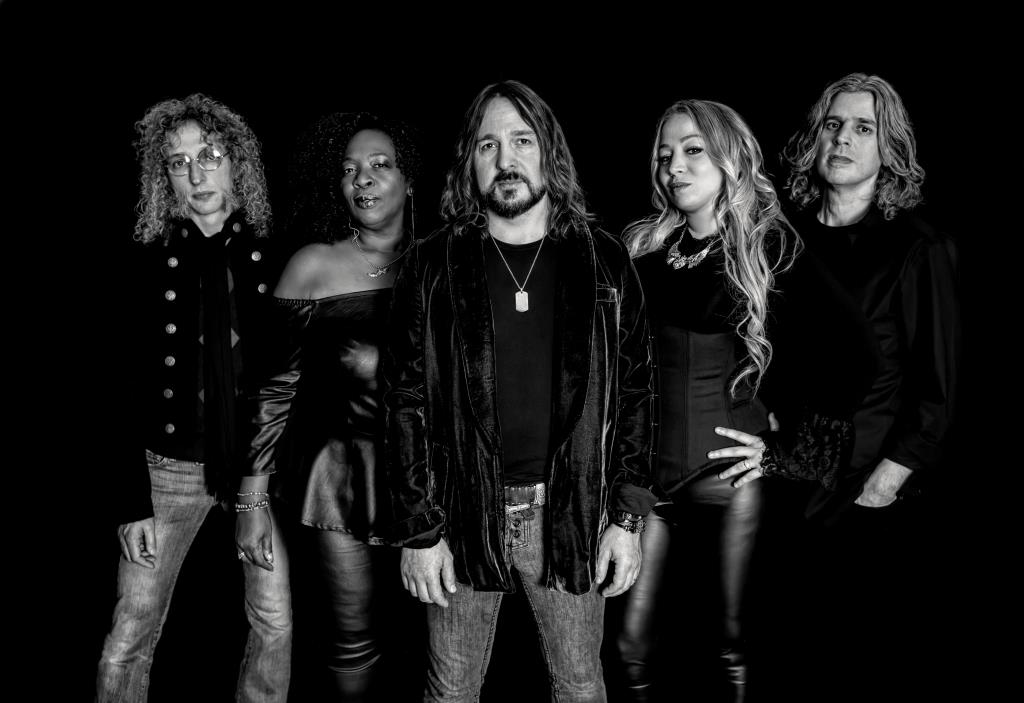 Over the past few years, The Matt O'Ree Band has done what most area bands do. They've played their shows, developed their sound, released their records and very quietly built a massive fan base in the process. What makes this band different from all the others is that their local fan base includes Bruce Springsteen, David Bryan and Steve Cropper, all of whom have volunteered to perform on the band's latest album, "Brotherhood". Prior to Brotherhood's release, Matt's talent was recognized globally when he got the nod to join rock legend Bon Jovi as guitarist and backing vocalist on their 2015 stadium tour of the Far East.
In addition to being a creative songwriter, Matt was recognized by the industry as a guitar great after winning a national guitar contest hosted by BB King and John Mayer through Guitar Center and Guitar World Magazine. Matt beat out over 4,000 competitors to win the grand prize which consisted of multiple guitars, an endorsement from Gibson, a shopping spree at Guitar Center and a new car from Scion. This major accomplishment was the spark that jump started his career and gave his band momentum for their future success.
Growing up on influencers ranging from Jimi Hendrix, Cream, Led Zeppelin, Deep Purple, Rory Gallagher, ZZ Top, Robin Trower, Joe Walsh and Stevie Ray Vaughan, The Matt O'Ree Band has taken all these diverse elements and forged a new iron.
The band takes their fans on a ride that hasn't been heard or seen at this level since the '70s. Their live show is like revisiting a Zeppelin concert at the Garden, and with Lex Lehman on bass, John Hummel on drums, Layonne Holmes and Eryn Shewell laying down angelically gutsy backing vocals, and keyboard duties brilliantly performed by Matt Wade, Matt and company have built a foundation that can hold up the biggest house on the block. After years of honing their craft, the Matt O'Ree Band has become an overnight success. Get M.O.B.'d up with New Jersey's next great export.
MELISSA OTERO – LATIN POP/ROCK EAST STAGE 2:30 – 4:00PM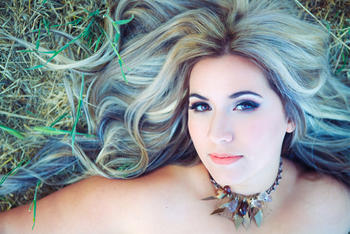 Melissa Otero is a Latin pop/rock singer-songwriter from New York City. She is an artist that has transcended across many cultures with her powerful epic ballads and big energetic and uplifting tunes! Inspired by artists such as Gloria Estefan, Celine Dion, Elton John, Ednita Nazario and others, her music connects with audiences from different cultures around the world! In 2013, her single "Angels and Demons" was part of Lifetime TV's Dance Moms soundtrack. The show attracted more than 3 million viewers, the biggest premiere of the series during that time, followed by thousands of digital sales in iTunes and millions of views on YouTube. For 2014, the song "With You (Contigo)" was presented as a main love theme for the characters Greta and Lazaro and "No Soy Un Angel" for the characters Smith and El Supremo in the telenovela Reina de Corazones on Telemundo. The telenovela has been broadcast around the world through Telemundo International which continues to attract new fans to her music every day bringing the viewership total to over 100 million. 2019 brings the brand new full length album "Erotomania" produced by Luca Fagagnini. The lead single "Speak" launched February 1st, 2019. The band consists of Melissa Otero, James Collins, Julie Rozansky, Justin Gonzales, Eduardo Palacios plus the String Ensemble.
THE NERDS - ALL AMERICAN ROCK & POP EAST STAGE 4:30-6:00PM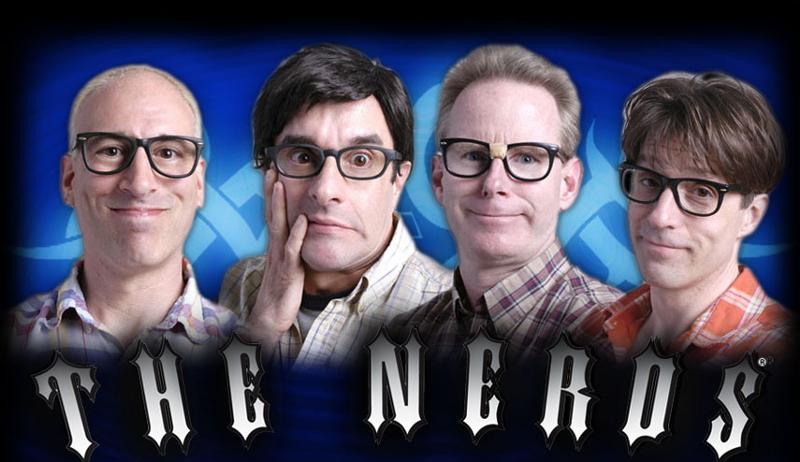 The Nerds (Spaz, Mongo, Biff and Stretch) are one of the Jersey Shores most loved bands! The band originated in 1985 and their stage show and banter was largely influenced by Monty Python and David Letterman's love of the absurd and Howard Stern's disregard for tact. The Nerds have performed on MTV, "The View", Carson Daly, and several other TV shows. Their posters have even been on several episodes of "Law and Order". They have played many celebrity hosted events for A&E, 'The Ed Show', even Uncle Floyd. They have performed for countless corporate clients including Microsoft, Google, Merrill Lynch and all of the Pharma companies that share the Princeton Corridor. They have shared a stage with Sheryl Crow, Hootie and the Blowfish, Earth Wind and Fire, Train, The Go-Gos, Maroon 5, Southside Johnny, and more. They have performed for countless political figures, have been joined onstage by numerous sports figures including members of the NY Giants, NY Yankees, NJ Nets, NASCAR champions, and yes even the occasional rock star like Jon Bonjovi, members of Twisted Sister, Dickie Betts of the Allman Brothers, Billy Joel's band and Letterman's Late Night band. Proud to have been one of the first musical acts to have a website on the internet, they continue to keep their fans informed on Facebook, Twitter and at THE-NERDS.COM.
RANDOMLY ON THE MIDWAY 2:30 – 5:00
MEXICAN STREET BAND – STROLLING MINSTELS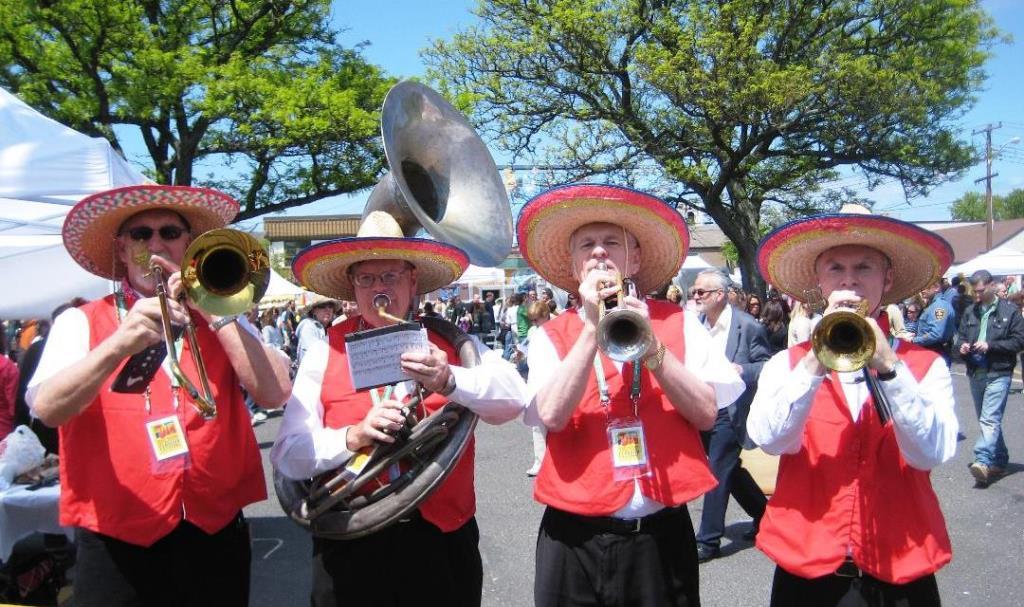 The Mexican Street Band is made up of some of the top musicians at the Jersey Shore. They have performed for many events and parades in New Jersey. The group plays upbeat Mexican favorites that have the ethnic flavor to get you into the Mexican mood in honor of Cinco de Mayo. They will perform mariachi favorites and will make you feel like you are on the streets of Mexico.
Trumpeter - John Luckenbill plays trumpet and is the personnel manager in the Orchestra of St. Peter and conducts the Asbury Concert Band. He has performed on ABC-TV "Good Morning America" and Fox TV "Good Day NY"
Trumpeter - Jim McIlvain plays principal trumpet in the Orchestra of St. Peter and the Asbury Concert Band. Jim has performed for shows all over the metropolitan area and performed for the King of Morocco. He has performed on ABC-TV "Good Morning America" and Fox TV "Good Day NY".
Trombone - Richard Linder has played for Premier Theater Company, Strand Project, and the Monmouth University Orchestra. He recently performed "On Broadway" with Shore Concerts led by David Meenan. Rich has performed for shows all over the metropolitan area and also for the King of Morocco.
Tuba - Richard Hensley plays tuba in the Orchestra of St. Peter and the Asbury Concert Band and performs all over the state. He is in great demand as a tuba player and has performed on ABC TV "Good Morning America" and Fox TV "Good Day NY".
The group is always available for festivals, events, and parades.
The Band Leader is JOHN LUCKENBILL 732-530-7817 [email protected]
WE HOPE YOU ENJOY THIS REALLY UNBELIEVABLE EVENT!
RED BANK INT'L BEER, WINE & FOOD FEST
PRODUCED BY RUEEVENTS.COM