DRIVING:
Take the Garden State Parkway to Exit 109 (Red Bank). Take Route 520/Newman Springs Road East. Go thru four traffic lights to end of road (Dunkin Donuts will be on your right). Make a left at that light onto route 35 North. Cross railroad tracks, stay to the right which turns into Broad Street. Downtown Red Bank starts after you go thru two more lights. You can enter the festival from Monmouth Street or White Street. Both streets are perpendicular to Broad.

From... Staten Island (45 Minutes)
New York City (1 Hour)
Philadelphia (1 Hour, 40 Minutes)

TAXI:
Middletown Yellow Taxi Cab (1-732-671-4600)
Red Bank Yellow Car Company (1-732-747-0747)

FERRY:
SeaStreak (1-732-873-2628) Red Bank Visitor Center:
Parking
The Guinness Oyster Festival Will Be Held in parking lot
#1-White Street Parking Lot.
Lot #2-Gold Street Lot is "Permit Parking Only" on Day of Festival.

All other parking lots are available for parking for the event and parking is also available on the street. Parking is free on Sundays
Please note, if a space is marked "Permit Parking" please do not park there. Limited handicapped parking is available on Drummond Place. Thank you!.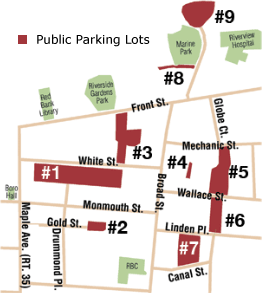 PARKING IS FREE ON SUNDAY
#1 White St. Lot (Festival Site-No Parking)
#2 Gold St. Lot Permit spaces.
#3 English Plaza Lot Meterd spaces.
#4 Between Mechanic & Wallace St. Meters & Permit spaces.
#5 & #6 Mechanic St. & Linden Place Metered, Permit & Reserved spaces.
#7 Between Linden & Canal St. reserved during weekdays.
#8 Union St. Meterd spaces.
#9 Marine Parking Lot Metered at the River.

GO BACK TO OYSTER FEST HOME